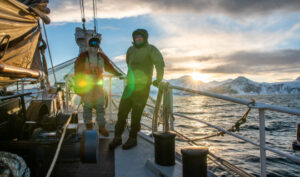 No optional bookings, everything on request. First come, first served.
North Norway, Aurora Borealis, Hike & Sail:  This polar voyage focuses on hikes (with snowshoes, if needed) that provide excellent views of Northern Norway's scenic coastlines.
When: 5-12 February, 12-19 February, 5 – 12 March 2022
Alpine Peaks of North Norway Ski and Sail: Starting in Tromsø, the "Paris of the North," and finishing in Alta, the home of the Northern Lights Cathedral, this adventurous voyage lets you ski some of the best and biggest off-the-beaten track slopes in Northern Norway. Summits like Trolltinden, Arnoyhogda, and Øksfordjøkelen are all possibilities on this exhilarating expedition-style cruise.
When: 26 March – 12 April 2022, 2 – 9 April 2022
Guide price: Ranges from £2,700 – £2,995 per person based on twin cabin (shared/private facilities respectively)