At Arcturus we put our clients first, and safeguarding the privacy of personal information is a fundamental part of this commitment. We follow strict procedures regarding the use of any personal details that we collect, store and use, as well as who within the company has access to them.
We only collect information that is legitimate and necessary to carry out our business. We do not buy in mailing lists and we do not, and would not, ever sell personal information that we hold on to a third party.
We recognise your right to be aware of the information we hold about you and how long we hold it for, and we are committed to making it as easy as possible for you to control this.
This privacy notice explains how we handle personal data with regard to the General Data Protection Regulation (GDPR).
Information that we collect, why and how we use it
Any information we hold on clients (or potential clients) is the result of your approaching us or a request for us to contact you, and is limited to what we need in order for us to provide a service to you and to operate our business.
When you first contact us or send an enquiry via our website we may collect personal details such as your name, email and postal address and use them to send you our printed brochure and newsletter and possibly an electronic e-newsletter. These publications showcase trips, holidays, special offers and news about the company that we believe may be of interest to you. Our 'Dispatches' E-news additionally contains information about last minute and special offers with limited duration which you might otherwise miss. You will be added to our mailing list database to receive these in the future but you can ask to be deleted from the printed publication mailings and unsubscribe from our e-news list at any time (see below).
In order to get our printed publications to you we use the services of a third party mailing house that is GDPR compliant.
We do not buy in mailing lists from external parties or use information from other mailing lists that are not our own.
We will never sell any of your personal details on to any third party.
We do not include advertising or promotional leaflets from other companies in our mailings to clients.
When it comes to organising your holiday, we need to collect and store more detailed information on our booking form such as your forenames, surname, nationality, date and place of birth, occupation, food allergies, next of kin, insurance details and passport or visa information. This is necessary to provide the services you are contracting us to provide for you or, for example should there be an emergency whilst you are on holiday. We only share or disclose information to a third party where it is mandatory in order for you to travel abroad, for example as required by government authorities at the point(s) of departure and/or destination. In booking your holiday you consent to our holding this information. Generally we retain it after your return in order to speed up the process of arranging future bookings, however if you do not wish us to do this please let us know and we will delete such details from our system.
Personal information on our computer is password protected and only a limited number of staff are able to access it.
All paperwork relating to the process of organising your trip is kept securely. We only retain this until after you have returned from your holiday and our accounting cycle is completed. After that it is destroyed.
Cookies and other Electronic Data
Cookies
Our website www.arcturusexpeditions.co.uk uses cookies – small files that are stored on your computer which remember when you've visited us before and help to improve your browsing experience. The first time you visit our site you are asked to confirm that you consent to this. Thereafter we assume your continuing consent. If you are not happy about this then you should either not use this site, or you should delete Arcturus cookies having visited the site, or browse the site using your browser's anonymous user setting.
To find out more about cookies and how to control or delete them, we suggest you visit http://www.aboutcookies.org for more guidance.
Web Analytics
We use a web analytics tool to analyse things which help us operate and improve our business. This may include site usage, how users arrive at our site and the pages they visit, their IP address, geographical location, browser type and version. For more information see http://www.google.com/analytics/learn/privacy.html
Links to other Sites
Our website may contain links to other websites of interest or social media buttons such as LinkedIn, Twitter and Facebook over which we have no control. In order to implement these buttons, and connect them to the relevant social networks and external sites, there are scripts from domains outside arcturusexpeditions.co.uk.
These sites may well be collecting information about your activity on the internet, including on our site. If you are concerned about this you should check the respective policies of each to see exactly how they use your information and to find out how to opt out or delete it.
Should you no longer wish us to hold your data
You can unsubscribe from our mailing list at any time should you no longer with to receive marketing communications from us. This is how we aim to make this as easy as possible:
All our printed brochures and newsletters are sent out with a printed reply-paid card. Simply fill it in, tick the box to be removed from our mailing list and post it at no cost to you and you will be deleted from the mailing list.
Every issue of our Dispatches e-news is prefaced with instructions at the top on how to unsubscribe. Click the link and your email will be deleted immediately.
If you wish to be deleted entirely from all the records we hold for you, please email fiona@arcturusexpeditions.co.uk or call 01837 840640 to request this. We will delete straight away all the information about you that we hold about you on our database.
If you wish to see any personal data that we hold about you, please ask us using the contact details above and we will be happy to provide it.
This privacy policy is effective from 25 May 2018.  We reserve the right to modify it and suggest you check this page from time to time to see if there have been any changes.
Receive our E-News
Fill in your details to subscribe to our regular Dispatches E-newsletter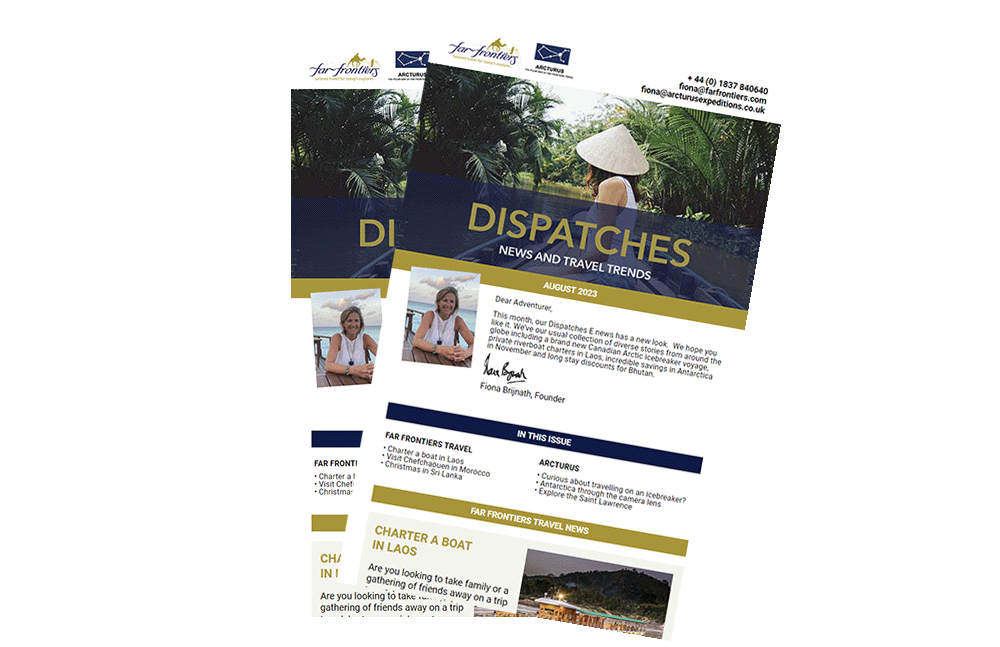 Our Brochure
View a PDF or order a copy of our Brochure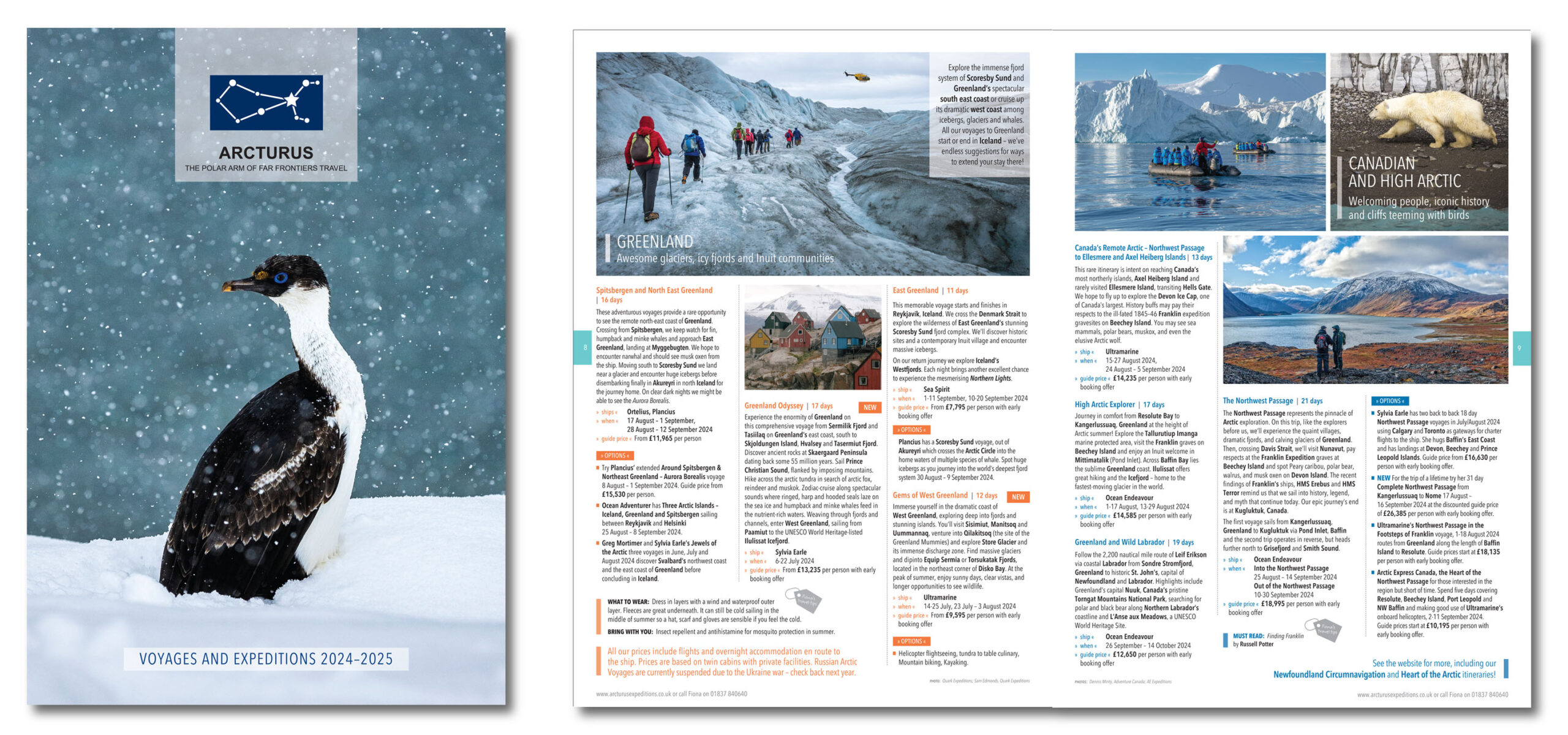 VIEW OR ORDER BROCHURE HERE