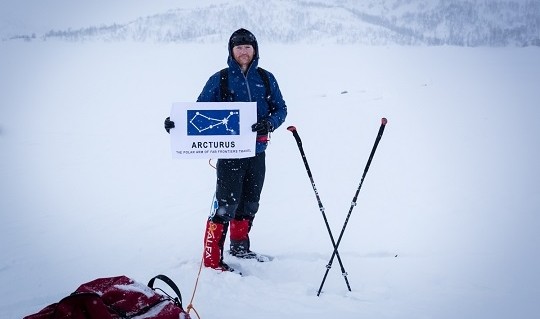 Arcturus
is sponsoring an attempt to make history later this year – with the first ever solo unsupported and unassisted crossing of
Antarctica
by former Royal Marine Commando 
Barry (Baz) Gray
.
In what is the greatest land-based challenge left in the world today, Baz will set off from the UK on 15 October 2018, with the aim of crossing the Antarctic Continent from coast to coast – a distance of 1800 miles – in a target time of 100 days.  He will start at McMurdo Sound in the Ross Sea and end at the North West Edge of Berkner Island on the Ronne Ice Shelf in the Weddell Sea.  It is a journey he'll be making on his own and without any support in such forms as the use of dogs, kites or resupply, and he'll be breaking several records along the way.   He has recently been training in Norway, where this photo was taken.
Challenge Antarctica aims to highlight the issues of climate change and help people to understand more about this precious region and how to protect it.  A major element will be working with children and schools across the UK and further afield.
We'll be following his progress on this epic adventure.  For more information about how you can support Challenge Antarctica by donating, helping with fundraising or getting involved in the educational programme see his website Challenge Antarctica.