Seb Coulthard is one of several eminent polar experts and explorers with whom we have teamed up to bring you some uniquely special voyages and expeditions.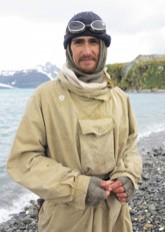 Seb is a polar historian who achieved fame in early 2013 as one of the team who re-enacted Ernest Shackleton's epic 800 nautical mile crossing from Elephant Island across the Southern Ocean followed by a three-day mountain crossing of South Georgia in order to get help to rescue his stranded crew. They achieved their perilous mission using the same equipment, clothing, and food as their heroes almost a century before, surviving everything that the sea threw at them in a faithful replica of the 23ft James Caird. It is a story every bit as gripping as the extraordinary journey made by Shackleton and his five fellow explorers in 1916.
Following her multi-million dollar refurbishment, Hebridean Sky (formerly Sea Explorer) will set sail for the 2016-2017 Antarctic season with Seb Coulthard on board the voyages below. Seb will be bringing history back to life using period equipment and resources both at sea and during land excursions. There will be opportunities to camp ashore where possible and to kayak among icebergs and whales.