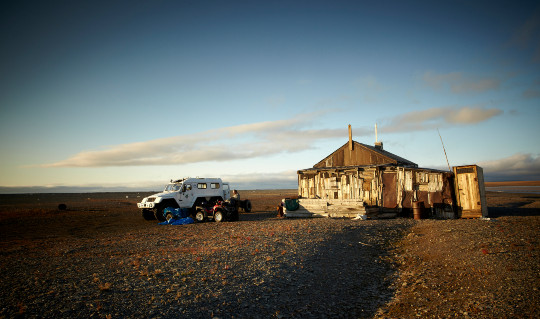 You will live ashore as guests of the rangers who man the Wrangel Island Nature Reserve, best-known as the polar bear denning capital of the world, as well as for having the largest population of Pacific walrus and an extraordinarily rich and diverse natural history.
Enjoy an unique 10-day island immersion, which will include exploring the landscape by tundra buggy and Russian-built, all-terrain truck, staying in rustic communal field units, eating simple but hearty camping fare and using outhouse bathroom facilities!  While there is no set itinerary, locations such as Mammoth River, Komsomol, Dream Head, Peak Tundra, the Unknown River, Red Flag, Cape Waring and the Clark River are likely to be among the places explored during the long days of the Arctic mid-summer trip.
During the expedition, five days will be spent travelling to Wrangel Island, traversing the Bering Strait between Russia and the USA, heading west along the Chukotka coastline and crossing the De Long Strait.  Highlights will include the ancient aboriginal site known as Whale Bone Alley on Yttygran Island, and the amazing bird cliffs of Kolyuchin Island and Inlet, where puffins, guillemots, gulls and cormorants abound in their thousands.
Your journey to and from will be aboard the superb 140 passenger ship Heritage Adventurer.
When:  24 July – 21 August 2022.
Price guide: £30,870 per person including flights based on twin share cabin. (We can find you someone to share with).
Ask for a detailed itinerary: fiona@arcturusexpeditions.co.uk