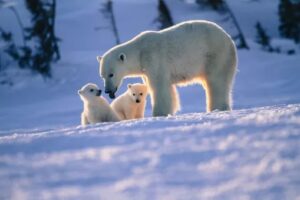 Enjoy shimmering Northern Lights at night, after days of observing and photographing precious moments between polar bear mothers and cubs.
Be one of the select few to experience the rare polar bear photography opportunities to see newborn polar bear cubs, safely, at a close range. Feel the exhilaration as they take their first steps in the snow as their mothers introduce them to the world.
Your accommodation will be at Newborn Polar Bear Cubs Lodge.This refurbished naval communications base stands almost 100 m on top of an old beach ridge, located just south of Churchill, Manitoba. Isolated in the middle of the tundra, the lodge is as self-sufficient and "off grid". This rustic lodge provides some of the world's best access to polar bear mothers and newborn cubs in Wapusk National Park.
The lodge features
Single, double and quadruple rooms
Wood-burning fireplace in the central lounge
A sauna is available, but please note showers are not available, due to remote location
Electric power provided by onsite generators
When:  21 February – 6 March 2022  –  WAITLIST AVAILABLE!  2023 dates – to follow
Price guide: £15,595 per person including flights
Action: Please register your interest: fiona@arcturusexpeditions.co.uk