Vega Island, Jan Mayen, Scoresbysund, Westfjords and much more | 22 days
This exciting new expedition voyage will sail from Kirkenes in the far North of Norway, some 400kms north of the Arctic Circle and known for its views of the Aurora Borealis (northern Lights). Shorter days in the high latitudes means darkening evening skies, so this voyage stays close to the coastlines of the Arctic Circle, skirting around the Norwegian and Greenland seas, and exploring the remote islands and villages of the region. As night falls, look skywards and hope to catch the magic of the northern lights. Scientifically known as the aurora borealis, this spectacular natural phenomenon offers a surreal light display as vibrant hues of blue, green, pink and violet dance across the night sky. Places located near the Arctic Circle such as northern Norway, Iceland and Greenland, are some of the best places in the world to witness this stunning light show.
There will be numerous highlights on this voyage. Just south of the Arctic Circle, explore Vega Island, an important centre for the production of eider duck down and a UNESCO World Heritage Site. Attempt to land on Jan Mayen, home to Mount Beerenberg, the northernmost active volcanic in the world. Discover the world's largest fjord system at Greenland's Scoresbysund, an unbeatable place to photograph dazzling icebergs. Iceland's remote Westfjords offer hikes among splendid scenery where you will barely see another soul.
The ship will hug  the magical Norwegian west coast with its profusion of stunning fjords as far as Brønnøysund and then strike out west towards Jan Mayen and the East coast of Greenland. From here, you'll cover off the northern coast of Iceland in a semi-circumnavigation before heading south to the Faroe Islands and on into Bergen.
Ship:                 Greg Mortimer
When:              1 – 22 September 2023
Guide price:    From £15,315 per person based on twin cabin (private facilities) with early booking discount

Trip Reports relating to the Scottish Isles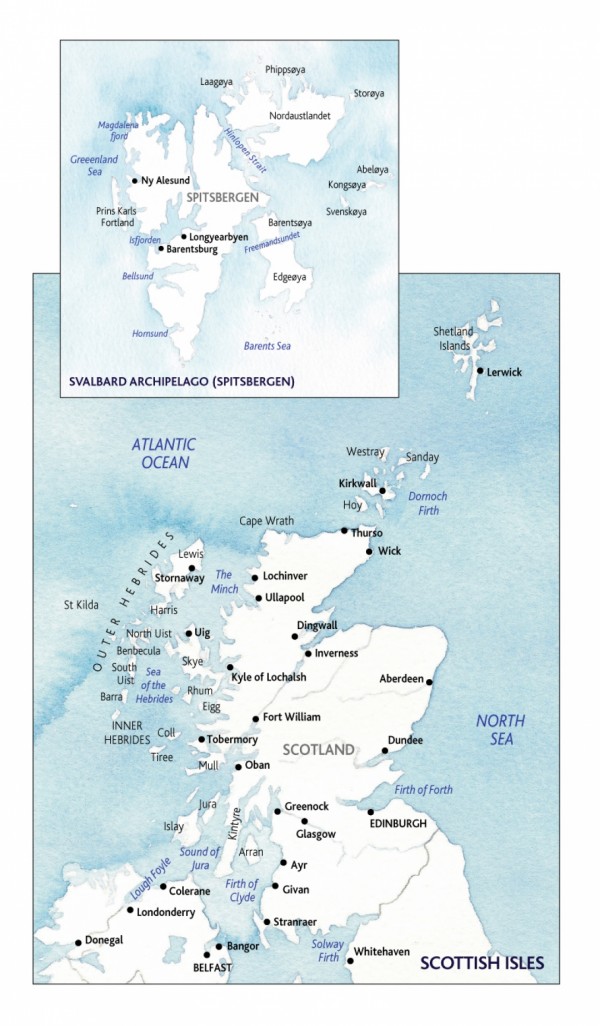 Fiona's travel tips
BEST TIME TO GO: May and June for the best weather.
MIDGES: Unfortunately the first midges start to appear in Scotland early June and can be around right up to the end of October! However they don't like strong sunlight, breezes or white or light clothing. Wearing protective clothing and repellents will help keep them at bay.
TOP TIP: Book a Scotland to Spitsbergen voyage and then the consecutive North Spitsbergen one. It's fun to leave the UK by ship and you will get a discount off the second voyage.
Receive our E-News
Fill in your details to subscribe to our regular Dispatches E-newsletter
Our Brochure
View a PDF or order a copy of our Brochure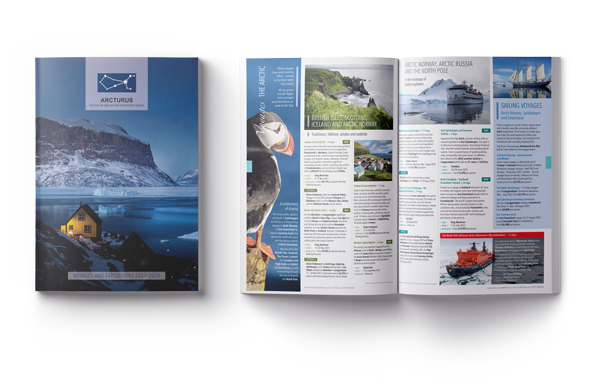 VIEW OR ORDER BROCHURE HERE